Good Cheer Building Fund Campaign FAQs
Shoppers arriving at the food bank often struggle with low wages, expensive health and child care, and lack of affordable housing. To meet these underlying challenges, Good Cheer is creating a Community Connection Program to assist clients in gaining access to the many community services available on South Whidbey.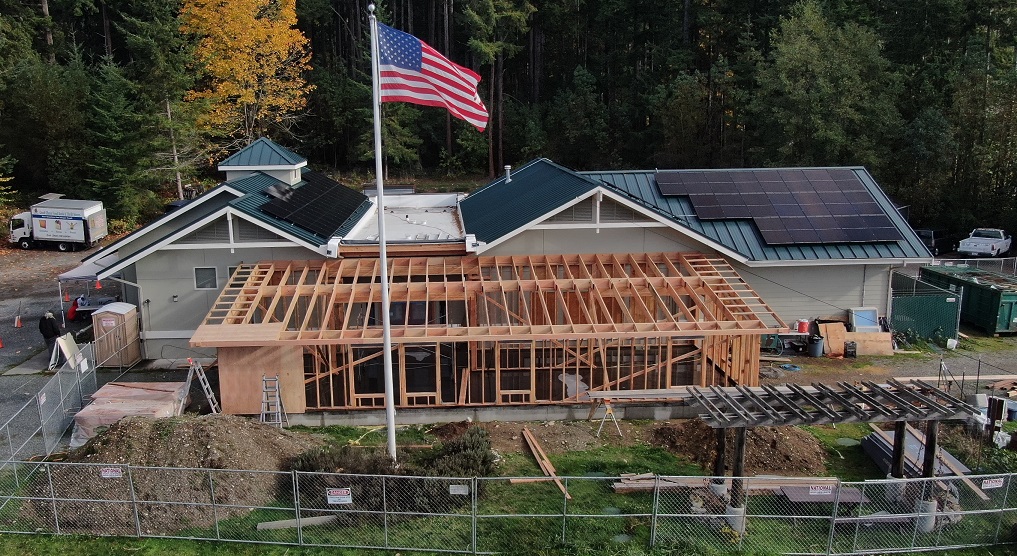 What is the Building Fund Campaign?
Good Cheer is building an addition to our current Bayview facilities that will house a Community Connection Program to allow community service providers/other nonprofits to provide food bank shoppers a one-stop place to receive assistance. 
People with food scarcity issues often have a cluster of other needs. These include: housing assistance, food needs, legal access, school administration matters, utility assistance, dental care, vision care, insurance access, affordable health care, affordable prescription medications, child care, mental and physical health counseling, and crisis intervention, among others. The Community Connection Program will provide a one-stop location for our shoppers to have their needs met (based on the availability of the other service providers/nonprofits) in a safe, clean, non-judgmental, and easy to access space. This facility will help us build a deeper and broader community safety net for South Whidbey. And that helps ALL of us. 
Why does Whidbey need a Community Connection Program?
Families needing food from Good Cheer often need other kinds of assistance as well.  We are lucky to have a generous and supportive community with many nonprofit support service organizations. However, the eligibility factors, access hours, contact information, and signup requirements vary between all of them.  This patchwork approach poses a barrier to our clients.  We can provide a deeper level of food scarcity service by being an access point to the other community service providers here at the Good Cheer Food Bank on South Whidbey where there is easy access to parking and Island County transit.
One of the challenges of directing food bank shoppers to other resources for additional help has always been having to send an individual with limited time and transportation

somewhere else on the island

just to learn if the other service can even help them. With the Community Connection Program, the goal is to have Good Cheer volunteers well-versed in eligibility requirements and sign-up procedures for other community services so they can give clients a connection to their broader assistance needs.  We envision being able to say to our clients: "Yes, there is more help available. And here are the next steps to make that happen."
In Island county, 27% of the population lives below the level of being able to afford basic household necessities.
Why now?
The pandemic really forced us to strengthen our existing partnerships and to communicate closely with other local service organizations in order to survive covid. Out of those conversations, we were reminded how much stronger our services are when we all work together. A community connection space had been a nice theoretical idea in the past, but with new and stronger partnerships coming out of the last couple of years, we are now primed and ready to take this next step!
This seems like a big change of focus for Good Cheer, is it?
Not at all. At Good Cheer, we believe that all people deserve food that will nourish and keep them healthy. Our focus on fresh and local foods seeks to provide shoppers with healthy food choices because food insecurity too often forces individuals to resort to cheap foods with poor nutritional value. We used to ask our shoppers what they needed from us to have a complete and healthy diet and get answers like "more kale." Now our food bank is able to supply kale year round. And in our last major shopper survey about barriers to healthy eating, clients identified a whole network of interrelated struggles that keep them from being able to focus on preventative health issues and healthy diets,

even if they would otherwise like to

. Chief among these were housing concerns and high healthcare costs. 

Our mission is to create a hunger-free community. And there are so many different reasons that families can end up hungry! We see community connection as an opportunity to strengthen and deepen our mission, not change it. Our primary activity will continue to be serving shoppers nourishing foods in a dignified, inclusive, choice-model food bank. We are not adding any direct services to what we offer, simply a connection and referral function to help people identify avenues for dealing with other challenges that lead to hunger. 
Who will be able to get support at the Community Connection Center?
At Good Cheer, we want to reduce the stigma that surrounds asking for help. Anyone from South Whidbey that is in need of assistance they cannot otherwise access or afford is welcome at the food bank and Community Connection Center. 
Who are the community service providers that will or might provide services in the new building?
We hope to welcome partners from a variety of service types, including housing and utility services, mental and physical health support, family and child-rearing aid, financial and legal counseling, and others.
There are too many potential partner services to list them all! It will include groups like Senior Services, Whidbey Homeless Coalition, Readiness to Learn, Opportunity Council, Mother Mentors, South Whidbey at Home, Friends of Friends Medical Support Fund, CADA, Safe Ride Home, Veterans Resource Center, and Worksource Washington, just to name a few. 
We anticipate the list of Community Service Providers will grow as our space and abilities become a reality.
What is the anticipated cost?
The construction budget is $430,000.
How much are you trying to raise? And how much have you raised so far?
As of February 2022, we have already raised $235,000. 
We are trying to raise at least $195,000, the remaining balance to get us to our $430,000 goal, which will cover the construction costs for the building expansion.
How can I help?
Glad you asked! We'd love to have a one-time donation. We have giving levels from $100 to $10,000. Donate online or write a check made out to Good Cheer (reference "Building/Community Connection" on the memo) and mail it to us at: 
Good Cheer
PO Box 144 
Langley, WA 98260 
What are the giving levels?
Lead Donors [This giving level is now closed]

Empower Level at $10,000 +

Inspire Level at $5000-$9999

Thrive Level at $1000-$4999

Encourage Level at $500-$999

Cultivate Level at $250-$499

Nourish Level at $100-$249
If you exceed your goal, what happens to donations above and beyond the $430,000?
Any excess funds (if not expressly restricted at the time of donation) will be used toward the Community Connection Program.
How far along are you?
We broke ground in August. The foundation has been poured and framing began in October.
Where is the addition being built?
Right off the front of our existing Good Cheer food bank and administrative office. Watch us grow when you drive by!
What is the layout of the new building space?
The Good Cheer addition will contain two new offices. 

One office is designated as the community connection office. It

will be used by our community connection volunteer, a staff member, or a community partner representative.  Particularly in any situation that requires a confidential conversation with a person seeking help.
The other office will be a multiuse/flex space and its use will be scheduled. When not being used for the Community Connection Program, Good Cheer staff can use it for zoom calls, interviews, meetings etc.
Both offices are designed for privacy. Both will be furnished so that our shoppers feel at ease and safe to share their concerns.
A table will be in the gathering area between the two offices that will be accessible by our shoppers.  Community partners can leave information about their services on the table for shopper to read or take with them.
When do you think you'll be able to open the new building?
The construction is scheduled for completion in March. Our goal is to open by Spring or Summer 2022.
Will I be able to see the construction?
For safety reasons, not likely up close during construction. But you can drive by and watch! 
But we will have tours of the new building when it opens!  It is supported by our community donors and grants so we want you to see the building you funded when it opens for our new Community Connection program.
What was the impact of the recent stimulus efforts on our customers/shoppers?
During the pandemic our community and nation stepped up to help those hit hardest by lost wages. Between stimulus checks, increased unemployment, free meals for school-aged children, a temporary boost in food stamp benefits, new community networks, and the eviction moratorium, some of our regular shoppers were able to get by without needing the food bank for a while. Many told us that they wanted to leave food bank resources for those who needed it more than they do.
What we have seen throughout the past year is a larger than average number of new families making their first food bank visit. In October alone, 31 new households signed up to use the food bank.
Given the temporary nature of the additional support mechanisms available in 2020 and 2021, client numbers started creeping up in June and July, and have continued to rise each month. The food bank is expecting and preparing to see shopping numbers increase rapidly again throughout the winter and into next year.
How else has the Covid pandemic impacted the food bank?
Like everyone else, Good Cheer has been affected by the unpredictability of the last 2 years, and a myriad of supply chain issues that have arisen from the covid pandemic. In early 2020 we were bulking up our warehouse to have enough food and supplies to feed food bank families through whatever was ahead. 

Then the shutdown hit. Unlike a full-size grocery store, our space was too small for proper social distancing. We went from a bustling 40-50 volunteers per week at the food bank, down to just 10-12 on dispersed tasks like driving trucks. Our food distribution model had to shift to curbside pickup, with a shopping list system to allow clients to choose preferred food items. 
With an overflowing warehouse, generous levels of food donation from the community, a reduced volunteer crew, and temporarily smaller client numbers we started to run out of space. Pivoting to meet the needs of the moment, we added storage that allowed us to set aside some items with a long shelf life for future disaster preparedness. And we also started sharing our surplus with other community partners that feed people. In 2021 alone, we have distributed over 12,000 lbs of food to community partners in our network, such as SPiN Cafe, Whidbey Island Nourishes, the Soup Kitchen at Island Church, and the Bayview Senior Center.
The federal government made money available through the CARES act for food banks to pay for food, supplies, and infrastructure improvements. With shopping numbers temporarily low, we were able to redirect efforts into leveraging some of this money to replace aging and failing equipment in our facility, including modern high-efficiency display refrigeration and freezers to replace the used set that we had been limping along well past its intended lifespan. 
Our warehouse of dry goods continues to be well stocked. It is more important than ever to donate cash instead of cans, so we can supplement our donation stream with food purchases to account for uneven donation rates of different kinds of foods, especially perishable items like dairy products, meat, and fresh produce. Our

wishlist

is on the website, and cash donations are preferred: they never expire, don't take up storage space, reduce sorting and handling time, and can be used to meet the need of the moment, whether it's carrots or cottage cheese.
We are extremely grateful for the way the Whidbey community has rallied around us during this time. As much as we are able, we are positioning the food bank to come through the pandemic more resilient than ever, and ready to welcome back households that got a temporary break from living in food insecurity in addition to the new shopper families that may be experiencing it for the first time.
I have a social services background and I want to volunteer for this program. How can I sign up?
That's great!  We are still in the beginning stages of recruiting and vetting volunteers for this program. You are welcome to contact karen(at)goodcheer.org to be added to the list of potential community connection partners or volunteers.
THANK YOU for being part of this important community-focused Campaign! Your consideration and donation will make a big impact to address root causes of hunger for food bank shoppers in our South Whidbey Community.